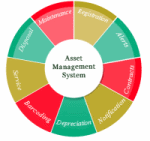 Benefits and Features
Our Asset Management software allows you to record and track an asset throughout its life cycle; from procurement to disposal. The system provides an organization with information such as location of the assets, staff members or departments which use the assets, how the assets are being utilized and details about the assets. The asset management software is used for management of both software and hardware assets.

Maintain detailed records of assets, tools, parts, personnel and repair issues for an asset

Optimize inventory & track movement

Track insurance & service contracts, asset allocation and repair analysis on factors such as suppliers, components, etc.

Full asset life cycle management and maintain detailed repair information including cost, item repaired, vendor etc.

Extensive depreciation management

In-depth asset reconciliation

Exhaustive reports with multiple filters

Interactive dash board for visual analysis

Synchronized depreciation with accounting periods for accuracy

Complete visibility on all assets and their impact on business decisions

Swift asset reconciliation with detailed analysis on various levels

Enterprise-wide asset control with fine-grain information retrieval

Improve performance through integrated processes and MIS reporting

Full tracking on assets leaving or entering the premises for repairs

People who have viewed this page have also viewed
Knovada is an internationally recognized provider of low-cost, high-value enterprise solutions with a focus on the delivery of simple software as a service (SSaaS) web-enabled integrated software suites for human resources administration and management, education and training and enhanced employee and customer communications. With a modular design and component architecture which provides the capability to select and deploy those elements which provide the greatest value to your organization, your enterprise can achieve the lowest total cost of ownership while maximizing the return on your software investment. No Information Technology resources are required which allows your staff to focus on supporting the organization. We provide our customers with a Capital-expenditure Free service while still enjoying the benefits enjoy enterprise-class technology which makes them competetive, in control, secure, and with the ability to work from anywhere that has an internet connection. Our software has easy to use confguration options that allow you to decide which fields will be displayed and the text that will be presented.