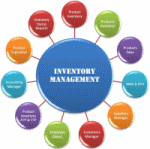 Benefits and Features
The Knovada Inventory management software system is used for tracking inventory levels, orders, sales and deliveries. Our inventory management software enables the organization to avoid product overstock and outages.

Reorder Point - Should inventory reach a specific threshold, the inventory management system can be programmed to inform managers to reorder that product. This allows companies to avoid both not having a sufficient number product and having too much product capital in inventory. The system likewise provides the organization to designate the number of units that should initiate a replenishment order.

Asset tracking - When a product is in a warehouse or store, it can be tracked via its barcode and/or other tracking criteria, such as serial number.

Service Management - Companies that are primarily service-oriented rather than product-oriented can use inventory management software to track the cost of the materials used to provide services, such as cleaning supplies, transportation costs, etc. which can then be used to associate these costs in the pricing associated with the overall service provided.

Product Identification - Our system uses Barcodes as a means of tracking data on products and orders which are then entered into the inventory management software. A barcode reader is used to read barcodes and retrieve information on the specific product.

Inventory Optimization - Our system provides demand forecasting and inventory optimization to attain key inventory optimization metrics

Order quantity: the number of units that should be reordered based on the reorder point, stock on hand and stock on order.

Lead demand: the number of units that will be sold during the lead time.

Stock cover: the number of days left before a stock is depleted if no reorder is made.

Accuracy: the expected accuracy of the forecasts.

Place orders for product and have inventory automatically adjusted when items are picked from the warehouse using the inventory pick list procedure.

People who have viewed this page have also viewed
Knovada is an internationally recognized provider of low-cost, high-value enterprise solutions with a focus on the delivery of simple software as a service (SSaaS) web-enabled integrated software suites for human resources administration and management, education and training and enhanced employee and customer communications. With a modular design and component architecture which provides the capability to select and deploy those elements which provide the greatest value to your organization, your enterprise can achieve the lowest total cost of ownership while maximizing the return on your software investment. No Information Technology resources are required which allows your staff to focus on supporting the organization. We provide our customers with a Capital-expenditure Free service while still enjoying the benefits enjoy enterprise-class technology which makes them competetive, in control, secure, and with the ability to work from anywhere that has an internet connection. Our software has easy to use confguration options that allow you to decide which fields will be displayed and the text that will be presented.