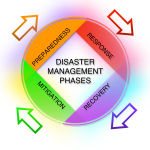 Benefits and Features
Natural disaster recovery requires its own type of planning, since natural disaster scenarios can involve unpredictable circumstances unlike man-made disasters caused by malicious or accidental incidents such human error or nature. Disaster recovery planning may differ by region, and locations prone to flooding and other natural disasters may take such occurrences into account from the start. However, even if severe weather events aren't a frequent occurrence in your region, you should still consider them when crafting a natural disaster recovery plan. Our Emergency Operation Center System provides all of the necessary capabilities.

Integrated mapping technology allows you to view incidences for specific dates on a map with the ability to drill down and get the details of each disaster. The mapping technology provides static street views of a geographic location. Additionally, you can display building locations and the most recent personnel check in times and location.

Our technology provides the ability to gather the personnel device GEO location information and GEO location information from the image that can be uploaded when reporting a disaster.

Mobile Capability:
Access our system from any Smartphone or tablet. No shrunken screen, get a unique, purpose-built mobile experience for each solution and put the full power of the system in the hands of every user.

With workflow support, touch points, and Disaster organization, our system is designed to help organizations more quickly address disasters while keeping the necessary personnel in the loop. Built-in incident disaster stats and reports can also help provide performance insights, so you can ensure your team is providing excellent service.

Better Understand Risks :
View the reports you need to protect the public at the click of a button. Get a better understanding of your risks by viewing disasters and relationships across any dimension.

Highly Configurable:
Yes and No field display selection configuration allows administrators to create forms and without field limitations on employee/disaster reports to capture the most accurate data possible.

Identify Trends and Relationships :
Quickly identify trends between disasters, locations, or assets involved in disasters. Perform root cause analysis to determine contributing factors and failed controls. Root cause analysis helps you identify gaps in existing processes, policies or countermeasures that need to be addressed.

Single Sign On (SSO):
Ensure a seamless experience with single sign-on capabilities. Users require a single set of credentials in order to access all areas of their system.

Our emergency operations center disaster plan management system provides you the ability to build disaster plans that will be used to manage various phases of the disaster and to facilitate an effective and efficient methodology to manage the disaster.

Once disaster data has been collected, you can now start to build projects to proactively address the disasters to prepare, respond, recover, and to mitigate them from reoccurring using our project management system software. When integrated with the Emergency Operations Center system, our project management system can used to assist in all phases of the disaster from identification, preparedness, response, recovery, and mitigation.

Disaster plan administrators are able to add, update, and delete disaster plans, disaster plan budget status, disaster plan status, disaster plan priorities, and disaster plan projects for each phase of the disaster.

The disaster plan is integrated with the project management, asset management , and inventory control systems which allows you to develop a very detailed disaster plan for the preparedness, response, recover, and mitigation phases of the disaster. This provides you the ability to assign assets, inventory, and key personnel that will be required for each aspect of the disaster plan.

People who have viewed this page have also viewed
Knovada is an internationally recognized provider of low-cost, high-value enterprise solutions with a focus on the delivery of simple software as a service (SSaaS) web-enabled integrated software suites for human resources administration and management, education and training and enhanced employee and customer communications. With a modular design and component architecture which provides the capability to select and deploy those elements which provide the greatest value to your organization, your enterprise can achieve the lowest total cost of ownership while maximizing the return on your software investment. No Information Technology resources are required which allows your staff to focus on supporting the organization. We provide our customers with a Capital-expenditure Free service while still enjoying the benefits enjoy enterprise-class technology which makes them competetive, in control, secure, and with the ability to work from anywhere that has an internet connection. Our software has easy to use confguration options that allow you to decide which fields will be displayed and the text that will be presented.