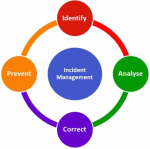 Benefits and Features
The Knovada incident tracking software facilitates a conversation to resolve organizational and public service issues by automating incident management, proper incident routing, reporting, centralized data collection, and FAQ database and resolution. Incidences can be escalated if problem is not resolved in the user defined time frame. The software also provides instructions on how to contact various agencies and allows for Incidences to become part of the knowledge based frequently asked questions. Our incident tracking software automates tasks such as: Incident categorization and prioritization, incident routing, alerts and notifications, incident status management, and more. With our incident tracking solution reduces workload which provides for a better user experience.

Our reliable Incident Software helps you achieve compliance with Safety and Health recordkeeping requirements and other federal regulations.

Integrated mapping technology allows you to view incidences for specific dates on a map with the ability to drill down and get a list of incidences and the details of each incident. The mapping technology provides static street views of a geographic location. Additionally, you can display building locations and the most recent personnel check in times and location.

Our technology provides the ability to gather the personnel device GEO location information and GEO location information from the image that can be uploaded when reporting an incident.

Provides the ability for personnel to check in and record their GEO location information and provide a status.

Integrated personnel mapping technology allows you to display personnel locations for a specified period of time and to look at a street view along with personnel details.

Mobile Capability:
Access our system from any Smartphone or tablet. No shrunken screen, get a unique, purpose-built mobile experience for each solution and put the full power of the system in the hands of every user.

Root Cause Analysis:
Drive continuous improvement using a variety of methodologies, including the standard checklist, gap analysis and more.

Audit Trail:
Maintain a complete history of records created, modified, maintained, archived, retrieved or transmitted. Log the local date, time and user in compliance.

API Access:
Seamlessly communicate with other third party systems and applications to push and pull data from one database to the other. Reduce redundancies and allow more in depth data analysis.

Single Sign On (SSO):
Ensure a seamless experience with single sign-on capabilities. Users require a single set of credentials in order to access all areas of their system.

Highly Configurable:
Yes and No field display selection configuration allows administrators to create forms and without field limitations on employee/incident reports to capture the most accurate data possible.

Identify Trends and Relationships:
Quickly identify trends between people, locations, or assets involved in incidents. Perform root cause analysis to determine contributing factors and failed controls. Root cause analysis helps you identify gaps in existing processes, policies or countermeasures that need to be addressed.

People who have viewed this page have also viewed
Knovada is an internationally recognized provider of low-cost, high-value enterprise solutions with a focus on the delivery of simple software as a service (SSaaS) web-enabled integrated software suites for human resources administration and management, education and training and enhanced employee and customer communications. With a modular design and component architecture which provides the capability to select and deploy those elements which provide the greatest value to your organization, your enterprise can achieve the lowest total cost of ownership while maximizing the return on your software investment. No Information Technology resources are required which allows your staff to focus on supporting the organization. We provide our customers with a Capital-expenditure Free service while still enjoying the benefits enjoy enterprise-class technology which makes them competetive, in control, secure, and with the ability to work from anywhere that has an internet connection. Our software has easy to use confguration options that allow you to decide which fields will be displayed and the text that will be presented.